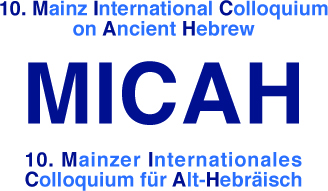 In charge of the Research Unit on Ancient Hebrew & Epigraphy / Ak. Dir. Dr. Reinhard G. Lehmann, and Dr. Anna E. Zernecke, Faculty of Protestant Theology, in collaboration with Dr. Johannes F. Diehl, Goethe University Frankfurt am Main, and with assistance of Kwang Cheol Park, Karoline Ehinger, Anna M. Schneider and Editha Lafebre (Faculty of Protestant Theology, University of Mainz).
Ocotber 2011, Friday, 28th - Sunday, 30th
Topics cover the Ancient and Classical Hebrew, i. e. Epigraphic and Biblical Hebrew, Qumran Hebrew, Ben Sira, and its subsequent effect on later or different language, as well as adjacent languages and epigraphics, for instance Ugaritic, Phoenician-Punic, Old and Imperial Aramaic, Moabite and Edomite.